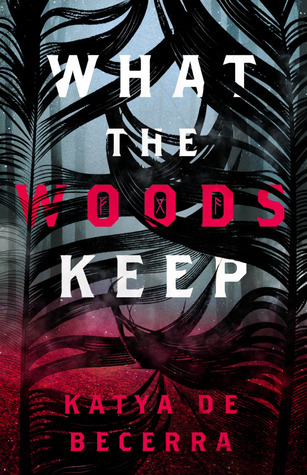 Title: What the Woods Keep
Author: Katya de Beccera
Genre: Young Adult,  Science Fiction, Dark Fantasy
Publisher: Imprint McMillan
Release Date: September 18, 2018
Synopsis:
On her eighteenth birthday, Hayden inherits her childhood home—on the condition that she uncover its dark secrets.
Hayden tried to put the past behind her, and it worked. She's getting ready for college, living in a Brooklyn apartment, and hanging out with her best friend and roommate Del. But now it's all catching up with her: her mother's mysterious disappearance a decade before, her father's outlandish theories about a lost supernatural race, and Hayden's own dark dreams of strange symbols and rituals in the Colorado woods where she grew up.
As soon as Hayden arrives at her hometown, her friend Del in tow, it begins: Neighbors whisper secrets about Hayden's mother; the boy next door is now all grown-up in a very distracting way; and Hayden feels the trees calling to her. And among them, deep in the woods, Hayden will discover something incredible—something that threatens reality itself.
Thoughts:
You may want to be lost in these woods. Okay, my corny jokes aside. I saw this book being raved by Karlita (our lovely tour organizer) on Twitter. Of course, the curious cat I am, I searched on what it is about. As per description from the blurb, it was alluring, trees calling in the MC to go into the deep woods.. umm, I signed up.
The atmosphere What the Woods Keep reflects is rich in all sort of creepy and eerie vibes. Completely in love with the world, it gave. I didn't find a dull moment in it. I got vivid images of present and flashbacks all the way to its last page. I was clutching my Kindle waiting for something to happen in the real world as well. And that speaks volume, if that doesn't get you, I don't know what will.
It is plot driven the story began when Hayden turned eighteen and was contacted by their lawyer for her inheritance, something from her mother whom she lost at a young age in the Woods. And returns to this place brought along a friend and discovers that whatever happened to her mother goes deeper than just her being lost in those woods. Later then reveals what really the woods keep…
With what is happening in the present and a bit of flashback, the style is a yes from me. It is something that we all have seen before but I had to admit the way it was told and revealed bit by bit as grappling well.
Characters. *Exhales loudly* here's the tea, I couldn't trust any-frigging-one of them. My trust was completely tossed out of the window. A reader will be up and in for an agonizingly good experience with these characters. Everyone seems so sketchy even the MC seems to send me this unreliable vibe, made the assumption from her flashbacks. The character development was a leap yet so unnoticeable. *Monica Geller* "I know!". If you know what I mean, we've read something like that at least once in our life, right?
Writing. Of, course all of these adorations is almost a reflection of the enslaving writing.  What I adore most is the blending and layering of mystery, paranormal elements, sci-fi, mystery, and thrill of it all. The mixture of the enigmatic air is present, the scientific and medical jargons were clearly well researched, the thrill of what will happen? yes. All here!
The ending struck me abrupt. I understand that this may be a clear intent of the author to do, for the readers to want more and I surrender because I do want more. You succeeded Katya, I haven't finished a book so fast in a while. I sat and finished this with just one bathroom break. Since then I had to hold it, my thoughts were spiraling that someone will be there waiting for me at the ungodly hour of the am.
If you're a huge fan of mystery-paranormal read, I dare you to pick a this up and discover this world yourself.
Rating:
Pre-order via Amazon | Book Depository |Books-A-Million | Wordery | IndieBound
Add to Goodreads
Disclosure: Copy provided by Karlita of Tale Out Loud and Publisher via NetGalley in exchange for an honest review. All views and opinions are my own and don't necessarily reflect the author, the author's work, the publisher, nor any other group of people, nor receive any monetary compensation for doing this review.
Favorite Quotes
"My life's no exemption. If anything, the number of forces I'm governed by is somewhat higher than normal. There's a force called Dad."
The years of my life in between were one big lump of suffocating medicated fog.
The cold grip of an invisible hand squeezes my heart and doesn't let go.
"Every force has a doppelganger that masquerades as its double but really is its opposite. Get it?"
"Secrets are bad for the soul."
"The unknowing bothers us."
"They say ignorance is bliss. But so is denial."
"Every time I come close to waking up, I get dragged back down into the whirlpool of dreams. I descend deeper and deeper and then I reach the bottom where there's no light, no air, nothing."
"Because you bored them all to tears with your jeans and hoodies, and they could no longer look at you without wanting to give you a makeover?"
"A flutter of wind sends a pang of recognition through my veins, but there's also the unease-the kind you get when you know you're lost in an unfamiliar (and possibly hostile) place."
"Why is it important that the girls are hot? Because of that's the truth. And news reporters never lie. It's their professional; code to only tell the truth."
"But this is how horror movies begin."
"Well, it's more of a feeling rather than an actual memory of something that happened."
"Unless they're going to open their mouths-beaks, whatever-and recites Poe can we get moving?"
"The longer I stare into the trees, the more ridiculous I feel."
"Are you really going to tell that every one of those stories had a grain of truth in it, even the most gruesome ones. Especially the most gruesome ones."
"Remind me that all those conjuring movies were written and acted by people and aren't real."
"His thoughts are like piranhas; they eat everything. Eat all the good things, like memories of my mom."
"Every time lighting would flash, id countdown till I hear the thunder. the act of counting calmed me- something to do with the inevitability."
"…wouldn't want to unleash the apocalypse because of my clumsiness."
"I strived to justify the weird and the odd, normalizing it all with my scientific reasoning."
About the Author
Katya de Becerra was born in Russia, studied in California, lived in Peru, and then stayed in Australia long enough to become a local. She was going to be an Egyptologist when she grew up, but instead, she earned a PhD in Anthropology. What the Woods Keep is her first novel.
Website | Goodreads | Twitter | Instagram |Facebook
Giveaway!
Join for a chance to be one (1) of the two (2), winners of What the Woods Keep print copies.
To join, click the link below.
More of What the Woods Keep? More stops to go by, see Tour Schedule below.