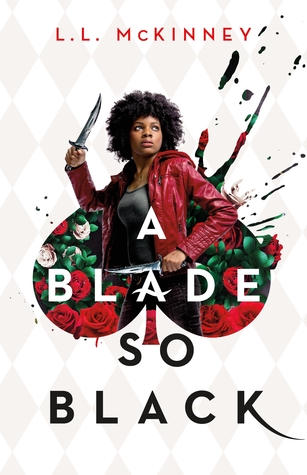 Title: A Blade So Black
Author: L.L. McKinney
Genre: Fantasy / Young Adult / Retelling
Publisher: Imprint
Release Date: September 25th, 2018
Synopsis:
The first time the Nightmares came, it nearly cost Alice her life. Now she's trained to battle monstrous creatures in the dark dream realm known as Wonderland with magic weapons and hardcore fighting skills. Yet even warriors have a curfew.
Life in real-world Atlanta isn't always so simple, as Alice juggles an overprotective mom, a high-maintenance best friend, and a slipping GPA. Keeping the Nightmares at bay is turning into a full-time job. But when Alice's handsome and mysterious mentor is poisoned, she has to find the antidote by venturing deeper into Wonderland than she's ever gone before. And she'll need to use everything she's learned in both worlds to keep from losing her head . . . literally.
Get a copy of A Blade So Black from Amazon | Book Depository | IndieBound | Wordery
Add A Blade So Black to Goodreads
Importance of Equality and Inclusion in Publishing
Equality and inclusion in publishing is the only way to provide non-white voices with the space they deserve to be heard, and to avoid perpetuating racist narratives and stereotypes. That's only a fraction of the issue, but it's what I'll focus on for now. Let me put it another way.
Alice is the first Black character I've written as a protagonist. Whenever I say this, it surprises people, but it's the truth. She's also the first girl. The main characters from my previous attempts at getting published were all white boys. That's what I read, that's what I thought I had to write about in order to be published. Those were the only kinds of books out there, stories focusing on all white casts written by white authors, sold by white agents, produced by white imprints. There's a pattern here, clearly, and it had such a profound effect that I nearly maintained it, even as a Black woman. If there had been books about people who look like me and my family, with covers featuring Black girl magic front and center, maybe I would've thought and felt differently. But there weren't, and though we have more now, it's still not enough.
I've been a voracious reader since my earliest years. I devoured dozens of books a year, and I can't recall any Black or brown characters by name, except for Jim from Huck Finn, and…yeah. The monochromatic structure of publishing meant this was the case essentially since its inception, and as a result, for decades no one thought this was an issue. Non-white readers simply had to deal with it, and some of us had internalized it to the point of believing—even though we felt something was wrong—that it was the way things had to be. But, thankfully, things look to be shifting. It's going painfully slow, but it is happening, little bit by little bit, and that's thanks to Black and brown authors centering their, our, voices.
I don't want my nieces and nephews, and maybe my own children someday, going through what I went through as a reader. I've sanitized much of my experience with literature, but that's due to the fact that I don't think I have the time or space to really get into it here, not because there weren't any issues. There were plenty, and I want to spare the next generation, and the one after that. We do this by pushing for equality and inclusion both on the page, in these stories, and in positions within the industry that brings them to life. Books need to reflect the world around us. They need to reflect the truth of the past. They need to reflect reality. In order to do so, authentically, the people telling, editing, and producing books needs to reflect all of this as well.
I know there are (white) people out there who think they're being pushed out, that they're being disregarded in some way, and I wish they could stop thinking about themselves long enough to realize the truth. They will always have a space here, we simply want one as well.
About the Author 
Leatrice "Elle" McKinney, writing as L.L. McKinney, is a poet and active member of the KidLit community. She's an advocate for equality and inclusion in publishing, and the creator of the hashtag #WhatWoCWritersHear. She's spent time in the slush by serving as a reader for agents and participating as a judge in various online writing contests.
Elle's also a gamer, Blerd, and adamant Hei Hei stan, living in Kansas, surrounded by more nieces and nephews than she knows what to do with. Aside from rockin' the Favorite Aunt thing, she spends her free time plagued by her cat–Sir Chester Fluffmire Boopsnoot Purrington Wigglebottom Flooferson III, esquire, Baron o'Butterscotch or #SirChester for short–or defending the realm from the enemies of Azeroth. FOR THE HORDE!
Website | Goodreads | Twitter | Instagram | Facebook |Tumblr
Giveaway
Win a finished copy of A Blade So Black (US Only)
Click the link below