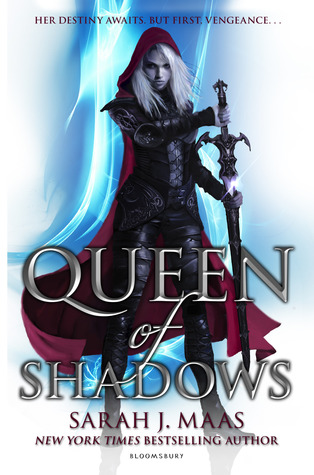 Title: Queen of Shadows
Author: Sarah J. Maas
Genre: Fantasy
Publisher: Bloomsbury
Release Date: September 1st, 2015
Source: Own, UK Paperback Edition
Synopsis:
Everyone Celaena Sardothien loves has been taken from her. But she's at last returned to the empire—for vengeance, to rescue her once-glorious kingdom, and to confront the shadows of her past . . .
She will fight for her cousin, a warrior prepared to die just to see her again. She will fight for her friend, a young man trapped in an unspeakable prison. And she will fight for her people, enslaved to a brutal king and awaiting their lost queen's triumphant return.
Celaena's epic journey has captured the hearts and imaginations of millions across the globe. This fourth volume will hold readers rapt as Celaena's story builds to a passionate, agonizing crescendo that might just shatter her world.
Thoughts:
Oh, this one started on a wrong foot. I had all these confusing thoughts of "what happened?" "what the hell is happening?" to "HOLY SHIPS" "OH GODS HAVE MERCY ON MY HEART".
Now I am calling it, Queen of Shadows may be my favorite in the series, followed by Crown of Midnight.
Here lies below my feels for the Queen of Shadows, mind you there are super minor spoilers, that type that would arouse your curiosity.
Characters:
Gods above, I love how they are all developing.
Aelin:
I was so angry at her and love her at the same time. Throughout the book, she is stubborn. I hated her guts I hated her so so much, at the same time I love her, I like her so much that I wish to accomplish everything she deserves. She has been through and will go through a lot. Gods above, gods from all over the world help her, guide her.
Rowan:
I find myself warming to him more. From Heir of Fire, I really don't see that spark going on from before. Here I see it, it gave me more focus on his truth. Yes, I don't like him that much from the last book. And with the messy events that unfolded from there, I wasn't a huge fan.
Chaol:
God, I am blessed, hurt, betrayed, loved, wrecked by the all of it.
Dorian:
Leaping lizards, my love for you is in whole levels of pain and joy.
Aedion:
For some reason, you are ingrained in my mind as a whiny brat but you are my funny whiny brat.
Lysandra:
I am stunned. I have seen Lysandra from the novella and earlier books. Good god, I think the best development award goes to you. You have come from so much hatred and have grown into such a learning and loving being? I swear to the gods if SJM hurts you. I'll wail for ages.
Manon:
You as well, I see you so clearly. I hated you. I loved you. I freaking adore you. With the recent events happening with Chaol, I'd been overly excited every time Manon's narrative comes to view. The growth and the conniving witch is always, always scheming. I am hungry for more.
Asterin:
YOU! I swear these characters are coming at me all at once, I am surprised by Asterin most. She is Manon's second, she is close to her but with the arising circumstances in Queen of Shadows, both characters are contradicting each other and well, it deepens. There will be choices to decide, and there will be consequences in return.
Arobynn:
I can't believe I get to see you closer. He was introduced in The Assassin's Blade ever so brutal but dang, it still appalls me. Seeing the master much closer reveals more layers than there really was.
Overall, they have grown so much. I feel old. Gods. They have their own agenda, redeem, conquer, that motivates them stronger than ever. The way they react with each persona around them. It confuses me, pisses me off, rooting for, hating, loving, adoring, hell all feels were felt for these individuals.
Plot:
It freaking thickens. Holy whacking moles. Numerous point-of-views, numerous plots to weave and go through, numerous feels to feel. And I believe I crave that high now. It is addicting, each and every hole that I thought was opening in my mind kind of suppressed through the events that took here.
I would like to take this chance to thank my past self for reading The Assassin's Blade not after reading the Queen of Shadows. I love how the past and present are creating this new era. Forming yet into another cloud in my head that would be surprised in the next books. I am telling you it thickens.
We get to see Caelena Sardothien in a new light of image here. I can't squeal more I am afraid to spoil something up.
Writing:
A huge leap from Heir of Fire, it captured me in ways I thought I wouldn't be, come on, to be honest, it is a 600 plus page book. I was thinking of not even going further into the series but I am dying to know what happens to coughs Chaol Westfall coughs. And I freaking did, it freaking drained me, completely shattered my soul.
Short story, back then before meeting SJM, I have read Queen of Shadows like four or so chapters, and given the events happened in Heir of Fire (y'all know that right). I am a solid Chaol Trash, so I told SJM that, she was trying to avoid my gaze and so, I drifted into another topic… she was really nice and her husband was there as well they are adorable getting sidetracked… and now that I know what I should've known back then, I was so clueless, I should've taken that as a sign.
Nevertheless, I still am a trash and would love to know more of him in Tower of Dawn *shrieks*. I have no idea what'll happen to my baby there, but I will always be by his side. Hahaha.
Back to writing, it was a huge impactful development from my point of view. The world building continues to grow and secrets are being unveiled twists upon twists. And from the way I reacted in the beginning with Queen of Shadows I took it badly, don't. And if you're feeling that way too it gets better. It develops through and I freaking love how this was done. And I warn you, prepare your heart for it might suffer through a lot of shocks.
Related: The Assassin's Blade – Sarah J. Maas
Rating:
Amazon | Book Depository | IndieBound | Wordery
Add to Goodreads
Disclosure: All views and opinions are my own and don't necessarily reflect the author, the author's work, the publisher, nor any other group of people, nor receive any monetary compensation for doing this review. Booklinks contain affiliate links in which the blogger receives a tiny commission on all successful purchases.
How about you have you read Queen of Shadows? Planning on going a Throne of Glass marathon too? Let me know.