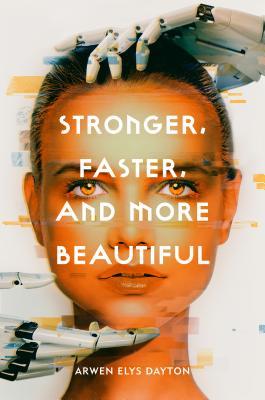 Title: Stronger, Faster, and More Beautiful
Author: Arwen Elys Dayton
Genre: Sci-Fi / Dystopia / Young Adult
Publisher: Delacorte Press
Release Date: December 4th, 2018
Format: A review of DRC
Synopsis:
For fans of television shows Black Mirror and Westworld, this compelling, mind-bending novel is a twisted look into the future, exploring how far we will go to remake ourselves into the perfect human specimen and what it means to be human at all.
Set in our world, spanning the near to distant futures, Stronger, Faster, and More Beautiful is a novel made up of six interconnected stories that ask how far we will go to remake ourselves into the perfect human specimens, and how hard that will push the definition of "human."
This extraordinary work explores the amazing possibilities of genetic manipulation and life extension, as well as the ethical quandaries that will arise with these advances. The results range from the heavenly to the monstrous. Deeply thoughtful, poignant, horrifying, and action-packed, Arwen Elys Dayton's Stronger, Faster, and More Beautiful is groundbreaking in both form and substance.
Thoughts:
Stronger, Faster and More Beautiful has been one of the most technologically advanced world I had this year! It is alternately subtle and outrageously stunning with each story introduced. What draws me more is the how it was all different yet is clinging on a thin thread that solidifies these stories together.
And I meant it that good. There are six short stories in the book, yes, six! It all pans out with such different dilemma with different teen characters that would rise up to the challenge of their modern world. The set-up was superb, it takes us in six different worlds set in the same one.
With each featuring story, there is a different quandary, that each character is facing, the details of the advancement they are in are both enchanting, literally like a scientific accident that you can't take your eyes off from looking and horrifying in levels of belief. Taking it into today's world way of societal thinking and moral structure. It is scary-possible. It could happen, my mind is provoked now. At the same time, it is addictingly entertaining.
What I did like is that, it is a sci-fi read but it is not as heavy as one would expect from, the jargons through the story is light but heavy on the ethical structure in society. There was technological advancement in skin grafting, genetic structures, and human modifications. From the first short story, there is a-um (I said earlier…) subtle but outrageous development that you'll be inhaling through. The stories pace were fast and told in a different manner, nothing recycled nor repetitive.
And the character's well, character. Presented by the decisions they took and made. They are not perfect they are flawed. Each is driven with whatever it takes to lead, to do the right, the opposite. The slice of life present in these pages as human beings, interaction amongst lands on the grayness. Leaving with more questions and light speed thoughts. They weren't wrong associating it with Black Mirror. And I can't believe that had the opportunity to be part of it earlier on its release!
I have my bets on Stronger, Faster and More Beautiful as the kind of read that even non-science-fiction would have a hard time to put down and be not be intrigued with its intricate futuristic world taking.
It will leave a heavy portrayal of the future in each reader's mind, what of us, what will be of humanity, morality, technology, and the standing environment fast-forwarding to a hundred years from the present.
Also, I see a wide range possibility that there could be another anthology or maybe a full-on novel with one of the stories featured in Stronger, Faster and More Beautiful.
Rating:
Amazon | Book Depository | IndieBound | Wordery
Add to Goodreads
🤖 🤖 🤖 🤖 🤖
Disclosure: Copy provided by Delacorte Press through Netgalley and Fantastic Flying Book Club in exchange for a spot on the promotional tour. All views and opinions are my own and don't necessarily reflect the author, the author's work, the publisher, nor any other group of people, nor receive any monetary compensation for doing this review. Booklinks contain affiliate links in which the blogger receives a tiny commission on all successful purchases.
🤖 🤖 🤖 🤖 🤖
About Author
Arwen Elys Dayton is best known for her 2012 novel Resurrection and the YA Seeker trilogy. She began her career as a teenage staff writer at a foundation that produced Peabody Award-winning educational shows for PBS. Soon afterward, she began writing novels.
She spends months doing research for her stories. Her explorations have taken her around the world to places like the Great Pyramid (which she explored by flashlight when researching Resurrection), Hong Kong and its many islands, lots of ruined castles in Scotland, and the cold cities around the Baltic Sea. She enjoys creating complete worlds inhabited by characters who charm, frustrate or inspire.
Arwen lives with her husband and their three children on the West Coast of the United States. You can visit her at arwenelysdayton.com and follow @arwenelysdayton on Instagram, or reach her by email at arwenelysdayton@gmail.com.
Website | Twitter| Instagram | Goodreads
🤖 🤖 🤖 🤖 🤖
Giveaway
1 Finished Copy of STRONGER, FASTER, AND MORE BEAUTIFUL by Arwen Elys Dayton
US Only
Join here.
🤖 🤖 🤖 🤖 🤖
Tour Schedule
November 28th
November 29th
November 30th
December 1st
December 2nd
December 3rd
December 4th
🤖 🤖 🤖 🤖 🤖