Since the beginning of December actually since the "ber" months began I had been trying to branch out and read more some adult books. And for obvious reasons, I didn't read that much from said category, because I'd been trying to finish my backlist reads. I figured "hmm, why not start fresh this, 2019?". I looked up books that very much interest me.
Most titles were found in my e-mails, you know the one where I you subscribe and they up-to-date you with which is which? that. And here I am, listed them up both as a guide for me to follow and to maybe spark some of you into getting on board too.  And with what I did with my previous lists I tried to feature books that are written by marginalized authors at the same time that keep my interest with their books.
I came up with these 7 Books, to really be excited about! I had been granted ARC to some of these titles, I won't say which I am still hoping it'll turn up in the mail. On the other hand, I did receive some e-galley of the books in here too. I guess it still would count as good. But I am still hoping it'll show up.
Here you go! I hope you enjoy and find another book to look forward to.
📚 📚 📚 📚 📚
Title: Here and Now and Then
Author: Mike Chen
Publisher: Mira Books
Release Date: January 29th 2019
Blurb:
To save his daughter, he'll go anywhere—and any-when…
Kin Stewart is an everyday family man: working in I.T., trying to keep the spark in his marriage, struggling to connect with his teenage daughter, Miranda. But his current life is a far cry from his previous career…as a time-traveling secret agent from 2142.

Stranded in suburban San Francisco since the 1990s after a botched mission, Kin has kept his past hidden from everyone around him, despite the increasing blackouts and memory loss affecting his time-traveler's brain. Until one afternoon, his "rescue" team arrives—eighteen years too late.
Their mission: return Kin to 2142 where he's only been gone weeks, not years, and where another family is waiting for him. A family he can't remember.
Torn between two lives, Kin is desperate for a way to stay connected to both. But when his best efforts threaten to destroy the agency and even history itself, his daughter's very existence is at risk. It'll take one final trip across time to save Miranda—even if it means breaking all the rules of time travel in the process.
A uniquely emotional genre-bending debut, Here and Now and Then captures the perfect balance of heart, playfulness, and imagination, offering an intimate glimpse into the crevices of a father's heart, and its capacity to stretch across both space and time to protect the people that mean the most.
Pre-Order Amazon | Book Depository | IndieBound | Wordery
Add to Goodreads
📚 📚 📚 📚 📚
Title: Black Leopard, Red Wolf (The Dark Star Trilogy # 1)
Author: Marlon James
Publisher: Riverhead Books
Release Date: February 5th, 2019
Blurb:
Tracker is known far and wide for his skills as a hunter: "He has a nose," people say. Engaged to track down a mysterious boy who disappeared three years earlier, Tracker breaks his own rule of always working alone when he finds himself part of a group that comes together to search for the boy. The band is a hodgepodge, full of unusual characters with secrets of their own, including a shape-shifting man-animal known as Leopard.
As Tracker follows the boy's scent–from one ancient city to another; into dense forests and across deep rivers–he and the band are set upon by creatures intent on destroying them. As he struggles to survive, Tracker starts to wonder: Who, really, is this boy? Why has he been missing for so long? Why do so many people want to keep Tracker from finding him? And perhaps the most important questions of all: Who is telling the truth, and who is lying?
Pre-Order Amazon | Book Depository | IndieBound | Wordery
Add to Goodreads
📚 📚 📚 📚 📚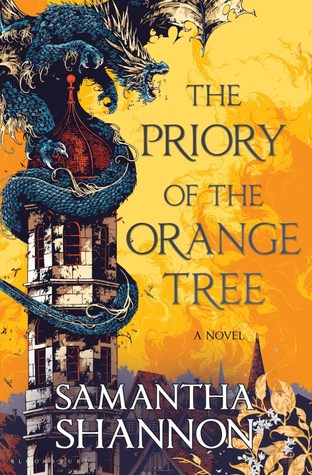 Title: The Priory of the Orange Tree
Author: Samantha Shannon
Publisher: Bloomsbury
Release Date: February 26th, 2019
Blurb:
A world divided.
A queendom without an heir.
An ancient enemy awakens.
The House of Berethnet has ruled Inys for a thousand years. Still unwed, Queen Sabran the Ninth must conceive a daughter to protect her realm from destruction—but assassins are getting closer to her door.
Ead Duryan is an outsider at court. Though she has risen to the position of lady-in-waiting, she is loyal to a hidden society of mages. Ead keeps a watchful eye on Sabran, secretly protecting her with forbidden magic.
Across the dark sea, Tané has trained all her life to be a dragonrider, but is forced to make a choice that could see her life unravel.
Meanwhile, the divided East and West refuse to parley, and forces of chaos are rising from their sleep.
Pre-Order Amazon | Book Depository | IndieBound | Wordery
Add to Goodreads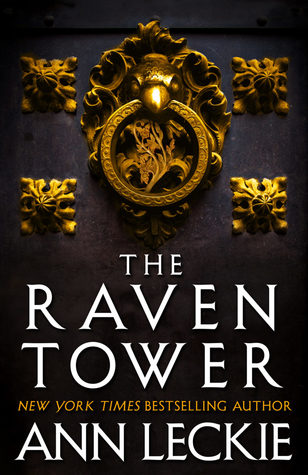 Title: The Raven Tower
Author: Anne Leckie
Publisher: Orbit
Release Date: February 26th, 2019
Blurb:
Gods meddle in the fates of men, men play with the fates of gods, and a pretender must be cast down from the throne in this breathtaking first fantasy novel from Ann Leckie, New York Times bestselling author and winner of the Hugo, Nebula, and Arthur C. Clarke Awards.
For centuries, the kingdom of Iraden has been protected by the god known as the Raven. He watches over his territory from atop a tower in the powerful port of Vastai. His will is enacted through the Raven's Lease, a human ruler chosen by the god himself. His magic is sustained via the blood sacrifice that every Lease must offer. And under the Raven's watch, the city flourishes.
But the power of the Raven is weakening. A usurper has claimed the throne. The kingdom borders are tested by invaders who long for the prosperity that Vastai boasts. And they have made their own alliances with other gods.
It is into this unrest that the warrior Eolo–aide to Mawat, the true Lease–arrives. And in seeking to help Mawat reclaim his city, Eolo discovers that the Raven's Tower holds a secret. Its foundations conceal a dark history that has been waiting to reveal itself…and to set in motion a chain of events that could destroy Iraden forever.
Pre-Order Amazon | Book Depository | IndieBound | Wordery
Add to Goodreads
📚 📚 📚 📚 📚'
Title: The Bird King
Author: G Willow Wilson
Publisher: Grove Press
Release Date: May 12th, 2019
Blurb:
From award-winning author G. Willow Wilson, The Bird King is an epic journey set during the reign of the last sultan in the Iberian peninsula at the height of the Spanish Inquisition.
G. Willow Wilson's debut novel Alif the Unseen was an NPR and Washington Post Best Book of the Year, and it established her as a vital American Muslim literary voice. Now she delivers The Bird King, a stunning new novel that tells the story of Fatima, a concubine in the royal court of Granada, the last emirate of Muslim Spain, and her dearest friend Hassan, the palace mapmaker.
Hassan has a secret–he can draw maps of places he's never seen and bend the shape of reality. When representatives of the newly formed Spanish monarchy arrive to negotiate the sultan's surrender, Fatima befriends one of the women, not realizing that she will see Hassan's gift as sorcery and a threat to Christian Spanish rule. With their freedoms at stake, what will Fatima risk to save Hassan and escape the palace walls?
As Fatima and Hassan traverse Spain with the help of a clever jinn to find safety, The Bird King asks us to consider what love is and the price of freedom at a time when the West and the Muslim world were not yet separate.
Pre-Order Amazon | Book Depository | IndieBound | Wordery
Add to Goodreads
📚 📚 📚 📚 📚
Title: Middlegame
Author: Seanan McGuire
Publisher: TOR Publishing
Release Date: May 7th, 2019
Blurb:
Meet Roger. Skilled with words, languages come easily to him. He instinctively understands how the world works through the power of story.
Meet Dodger, his twin. Numbers are her world, her obsession, her everything. All she understands, she does so through the power of math.
Roger and Dodger aren't exactly human, though they don't realise it. They aren't exactly gods, either. Not entirely. Not yet.
Meet Reed, skilled in the alchemical arts like his progenitor before him. Reed created Dodger and her brother. He's not their father. Not quite. But he has a plan: to raise the twins to the highest power, to ascend with them and claim their authority as his own.
Godhood is attainable. Pray it isn't attained.
Pre-Order Amazon | Book Depository | IndieBound | Wordery
Add to Goodreads
📚 📚 📚 📚 📚
Title: Gods of Jade and Shadow
Author: Silvia Moreno-Garcia
Publisher: Del Rey
Release Date: August 6th, 2019
Blurb:
The Mayan God of Death sends a young woman on a harrowing, life-changing journey in this dark fairy tale inspired by Mexican folklore, for readers of The Song of Achilles and Uprooted.
Here we shall begin to tell a story: a tale of a throne lost, of monsters and magic. A tale of gods and of the shadow realm. But this, our story, it begins in our world, in the land of mortals.
It begins with a woman. For this story, it is her story. It begins with her. 
The Jazz Age is in full swing, but Casiopea Tun is too busy cleaning the floors of her wealthy grandfather's house to listen to any fast tunes. Nevertheless, she dreams of a life far from her dusty, small town in southern Mexico. A life she can call her own.
Yet this new life seems as distant as the stars, until the day she finds a curious wooden box in her grandfather's room. She opens it–and accidentally frees the spirit of the Mayan God of Death, who requests her help in recovering his throne from his treacherous brother. Failure will mean Casiopea's demise, but success could make her dreams come true.
In the company of the strangely alluring god and armed with her wits, Casiopea begins an adventure that will take her on a cross-country odyssey, from the jungles of Yucatán to the bright lights of Mexico City–and deep into the darkness of the Mayan underworld.
Mixing the excitement of the Roaring Twenties with Prehispanic mythology, Gods of Jade and Shadow is a vivid, wildly imaginative historical fantasy.
Pre-Order Amazon| Book Depository | IndieBound
Add to Goodreads
📚 📚 📚 📚 📚
Disclosure: Book links contain affiliate links; the blogger earns a tiny commission from all successful purchase(s) made at no additional cost to you.
📚 📚 📚 📚 📚
Related: 7 Young Adult Fantasy Books
Related: 7 Contemporary Young Adult Books
Related: 7 Middle-Grade Books
---
Which 2019 release are you looking forward to?
Have I listed a book(s) in here that you had been anticipating too? Let me know!