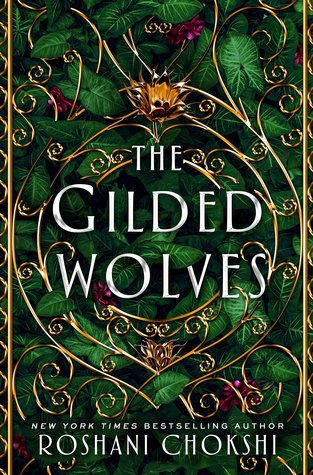 Title:  The Gilded Wolves
Author: Roshani Chokshi
Genre/Demographic: Historical Fiction / Fantasy / Young Adult / LGBTQIAP +
Publisher: Wednesday Books
Release Date: January 15th, 2019
ISBN13: 9781250144546
Synopsis:
Set in a darkly glamorous world, The Gilded Wolves is full of mystery, decadence, and dangerous but thrilling adventure.
Paris, 1889: The world is on the cusp of industry and power, and the Exposition Universelle has breathed new life into the streets and dredged up ancient secrets. In this city, no one keeps tabs on secrets better than treasure-hunter and wealthy hotelier, Séverin Montagnet-Alarie. But when the all-powerful society, the Order of Babel, seeks him out for help, Séverin is offered a treasure that he never imagined: his true inheritance.
To find the ancient artifact the Order seeks, Séverin will need help from a band of experts: An engineer with a debt to pay. A historian who can't yet go home. A dancer with a sinister past. And a brother in all but blood, who might care too much.
Together, they'll have to use their wits and knowledge to hunt the artifact through the dark and glittering heart of Paris. What they find might change the world, but only if they can stay alive.
Thoughts:
The Gilded Wolves is one of my 2019 anticipated releases! I am honored to be one of the people who is blessed with an early copy and to be part of the promotional tour! And it delivered! Action-filled, full of mystery, packed with a very diverse cast!
Let's go into the nitty-gritty.
As a person who is a huge sucker for a historical setting, it was all a pleasure for me, initially. Once I delve more into the book's details and atmospheric build-up. One can immediately be swept away. A combination of both alternate 1889 historical placing, a mixture of biblical beliefs, secret societies, and technological advancement. Admittedly, there are certain aspects that can be hard to get into however the overall impact blew me.
The historical placement got my Filipino heart leaping with so much joy! It is some alternative 1889 but still. Naturally, most Filipino people know about the agenda Dr. Jose Rizal and fellow educated people are making in Europe. And when these were all mentioned in the book, I lost it. I had gone sending out messages to my friends. And that impact alone brought me back in my Filipino class, depicted a more deep connection to the time setting. There are more not only with that profoundly associates with my heritage.
The thrown in the mixture of the story of Tower of Babel and the added flair into making it more fitting and enigmatic for the reader will make one deeply in trance with the book till the one finds the answers. Secret societies, yes, not one! There are far more. It is mesmerizing to know these and what these are built for.
The technology, despite that it was set way back. The items they used in their dangerously thrilling heist is paired with an advance take of technology, twisted with mythology. I am deceased. It was amazing. The playful twist was such an exhilaratingly fitting. We get to see these items put in use, gets innovated, discovered, and be confounded by.
The Characters! We have a very diverse set of cast we have here! My heart leaping with so so so much joy is an understatement. Here we have…
is a French-Algerian hotelier, has a dark? and mysterious past has a side job as a treasure hunter, robbed heir of House Vanth, likely the gang's leader, has a very motivated goal both for his and his friends.
is an Indian, dancer, she has the ability to know things through touching things, an amazing baker/cook; my stomach rumbles everytime it is mentioned that she's serving food around, basically she's like a mom of the group. I love her, she's very witty my chest can't hold it there's this scene with Severin making a deal about [spoiler redacted] and she basically used her mighty wits to [ spoiler redacted ], did I mention I love her? I really do.
*SCREAMS FOREVER* Enrique is a Filipino-Spanish historian, (I am a Filipino and this made me feel something like beyond joy) and a person whom I never would/will get tired of calling the most beautiful and prettiest one in the planet. (Please, be with me. I'll do it forever and ever.) He's queer (could be bisexual or pansexual), also is struggling biracial character be it being Spanish and Filipino, his mind is so hard in tuned with puzzles and history, and I love waaay too very-very much. (I know that obvious…)
is Jewish Polish, has magical abilities, she has anxiety, she finds comfort in counting, solving mathematical problems, and I think she may be even under the category of OCD, her movements are precise. (Edit: I was corrected below the comments that Zofia has autism.) And Zofia has a soft heart for her little sister.
Oh, man. I love Tristan but I could never go near him with Goliath's around him, his a tarantula. White. Considered as a brother of Severin, given their history going through foster houses/care. He's very good with plants, concocting and brewing tech for their heist(s).
Black, a patriarch of House Nyx, queer character, his character arc is amazing, I love how it developed, it can be difficult at first. He reminds me of someone I saw from a 2018 heist movie.
The story was overwhelming at first but when I had regained my footing on a better perspective it took me right off, enjoying. When you got to lean in closer with the characters' covert missions a reader will be challenged and engaged definitely more than one intended to. It would be a great book for a book club discussion. And generally, to raise more awareness about the appropriation of different cultures/heritage. Aside from that the different representation of anxiety, and possibly OCD. (Hit me up if needed correcting.)
The banter/script among characters came out naturally. It had me in stitches, downright the first chapter and to the last, seriously you all better hold onto something when you find yourself reading the last page. It was wonderfully crafted; aside from the banter, monologues, and script among characters, it is filled with secrecies, action, wits, it has so much to offer, one would enjoy.
Overall, my heart is tired of leaping out of my chest, kidding! It was such a good book, with amazing characters that you'll easily fall in love with too. Though it may remind you of Six of Crows it's worth a read. You'll be easily swooped in by the enigmatic world of secret societies, mythological & magical realism there is to see.
Lastly, have you seen these magnificent character art for The Gilded Wolves?!
content/trigger warnings: challenged racism, death of loved ones, abuse, abandonment, anxiety, some graphic depiction of violence.
Rating:
Amazon | Book Depository | IndieBound | Wordery
Add to Goodreads
🐺 🐺 🐺 🐺 🐺
Disclosure: Copy provided by the publisher through Royal Polar Bear Reads and Wanderer in Neverland in exchange for a spot in the blog tour. All views and opinions are my own and don't necessarily reflect the author, the author's work, the publisher, nor any other group of people, nor receive any monetary compensation for doing this review. Booklinks contain affiliate links in which the blogger receives a tiny commission on all successful purchases.
🐺 🐺 🐺 🐺 🐺
About Author
Roshani Chokshi is the New York Times bestselling author of The Star-Touched Queen and A CROWN OF WISHES. Her middle-grade debut, ARU SHAH AND THE END OF TIME, released April 3, 2018, from Disney/Rick Riordan Presents. Her next young adult novel, THE GILDED WOLVES, is slated for Winter 2019. Chokshi's work has appeared in Strange Horizons, Shimmer, and Book Smugglers. She was a finalist in the 2016 Andre Norton Award and the Locus Top Ten for Best First Novel. Her short story, "The Star Maiden," was longlisted for the British Fantasy Science Award.
Website | Twitter | Instagram | Goodreads
🐺 🐺 🐺 🐺 🐺
Tour Schedule

January 14, 2019

January 15, 2019

January 16, 2019

January 17, 2019

January 18, 2019

January 19, 2019
---
Have you read the Gilded Wolves? Are you planning on reading it too?