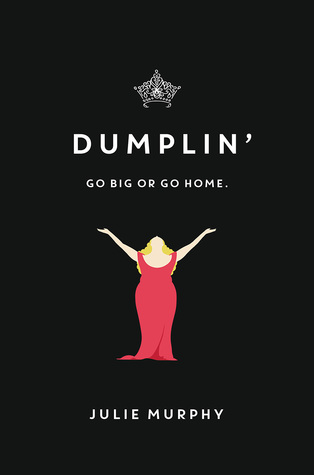 Title: Dumplin'
Author: Julie Murphy
Genre/Demographic: Contemporary / Romance / Young Adult
Format: Purchased (Paperback Edition)
Publisher: Baltzer + Bray
Release Date: September 15th, 2015
Synopsis:
Self-proclaimed fat girl Willowdean Dickson (dubbed "Dumplin'" by her former beauty queen mom) has always been at home in her own skin. Her thoughts on having the ultimate bikini body? Put a bikini on your body. With her all-American beauty best friend, Ellen, by her side, things have always worked…until Will takes a job at Harpy's, the local fast-food joint. There she meets Private School Bo, a hot former jock. Will isn't surprised to find herself attracted to Bo. But she is surprised when he seems to like her back.
Instead of finding new heights of self-assurance in her relationship with Bo, Will starts to doubt herself. So she sets out to take back her confidence by doing the most horrifying thing she can imagine: entering the Miss Clover City beauty pageant—along with several other unlikely candidates—to show the world that she deserves to be up there as much as any twiggy girl does. Along the way, she'll shock the hell out of Clover City—and maybe herself most of all.
With starry Texas nights, red candy suckers, Dolly Parton songs, and a wildly unforgettable heroine—Dumplin' is guaranteed to steal your heart.
Thoughts:
I've read this book in the participation of Diverse Divers Book Club. Not so participating really, I didn't have the chance much to join in the conversation. It's not much of a success as I thought it'll be. I'll have to make up.
Dumplin' was hyped up in the community with the movie going on and the success that follows it. They were all songs of praises. And as a person who's reading goal is to gear towards more diverse reads. It is in my list of to-reads, and a whole variety more of books to read with a fat rep. Since it's been voted and won as the Book of the Month and I already have a copy in the shelf, I jumped into bandwagon immediately.
Reading Experience:
It wasn't what I thought it'd be, it wasn't that bad and it wasn't that great either. Throughout the book, there were parts wherein I find inadequate-in a holey way. I feel that certain points of view could have been hashed out if, there were supplication of how a scene came into what is being told now. It was slow for me too, the pacing took its time.
I am okay with love triangles now, but at the moment I feel like a turtle going back to my shell. I wasn't a fan of it that much. It was done not for my liking. I don't think I'd be the best market for that. Even with the other characters' romance origin. It started really romantic. There is a slow burn present there. And the sweetest gestures that shows so much care. I am smirking as hell. The latter part of the execution was for me. There's that.
I love that body positivity the novel connotes during the pageant. It may appear as Dumplin' contradicting that and may appear as hypocritical to some. However, I feel the complete opposite. I think it goes against the internalized misogyny in an individual of a minority too, to accept the thinking of just because a person is not fat or that an individual is seemingly fit, doesn't mean that individual has no insecurities as well. I highly appreciate that scene. I want to go hug Willowdean and Ellen so tight.
Speaking of Ellen, her best friend, the friendship in the book was another that screamed at me. There had been a rift. And during that rift, it was the most frustrating thing for me too, as a reader. She knows what to do yet she isn't executing them. And then she met those drag queens without judgments, embracing them, earning new friends. Not with them but the newly formed camaraderie with the fellow contestants. The relationship with her Aunt was something I admire too. I felt that the crafting of that relationship was the only thing solid. I find my eyes getting moister by the second she mentions that she misses her too much.
I also love that Willowdean hasn't felt the way she should go on a strict diet and exercise to fit in with the pageant. She embraced herself and stun them with what she had learned from her newly found friends.
Would I recommend it? Yes, definitely.
Favorite Quotes
"Maybe 'cause you don't always have to win a pageant to wear a crown."

"Loyalty is…loyalty is being there for someone. It's selfless. It's about standing by someone's side even when you don't want to."

"All my life I've had a body worth commenting on and if living in my skin has taught me anything it's that if it's not your body, it's not yours to comment on. Fat. Skinny. Short. Tall. It doesn't matter."

"Loyalty isn't blind. Loyalty is telling someone they're wrong when no one else will."

"This is me. Back me up or back the fuck out."
Rating:
Amazon | Book Depository | IndieBound | Wordery
Add to Goodreads
Disclosure:  All views and opinions are my own and don't necessarily reflect the author, the author's work, the publisher, nor any other group of people, nor I received any monetary compensation for doing this review. Booklinks contain affiliate links in which the blogger receives a tiny commission on all successful purchases.
💃 💃 💃 💃 💃
About Author
 Julie Murphy is a potty-mouthed Southern belle who was born in Bridgeport, Connecticut but found her home in Fort Worth, Texas. She's never seen Star Wars but has yet to meet a made for TV movie she didn't love. When she's not writing, Julie can be found cruising Costco for free samples, watching Sister Act 2, stalking drag queens on Instagram, obsessing over the logistics of Mars One, and forever searching for the perfect slice of cheese pizza. She lives with her bearded husband, two vicious cats, and one Pomeranian that can pass as a bear cub. DUMPLIN' is her second young adult novel.
Website | Twitter  | Instagram | Goodreads
💃 💃 💃 💃 💃
---
Have you read or seen Dumplin'? What are your thoughts about it?