It's Sunday, it's 9:51 in the evening and I am whipping up a sign-up and to-be-read post for Noura's Avenger Readathon 2019 of Perks of Being Noura! Let me tell you, it's worth it. I have never been so excited to see a challenge I want to do so bad. I came across the sign-up post from Aleks of Mind of Luxe! And I immediately messaged Divine of REA(D)IVINE to see if she's up for it as well… y'all better anticipate her post as well now, okay?
Enthusiastic as I already am with the movies, btw, my dad and I rewatched the movies lololol, we trash. We are very much are ready for Avengers: Endgame. I am very much looking forward to this; I have carefully crafted my read list to hit two challenges birds with one stone coughs, YARC 2019 and The 2019 Reading Challenge, coughs.
Enough of that,
What's the Avengers Readathon?
It's a month-long readathon, featuring prompts from different characters in the beloved universe! Okay, I suck at this, I am too hyped to articulate the hows; go visit Noura's blog find out more.
Here we go, spoiler…
I'll be doing the Captain Marvel Profile!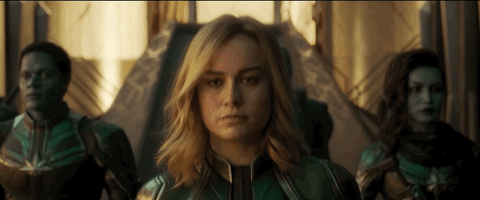 I've seen the movie, everyone's take is mixed. I find the movie amazingly relevant and timely, so don't @ me.
Captain Marvel's S.H.I.E.L.D. Assignments:
First Female Hero: Feminist Read
I am astounded by the raves I have heard about this book's badassery… Plus this book is a buddy read as well, I am not sure if you're reading this… Hi Saimon!
Title: The Priory in the Orange Tree
Author: Samantha Shannon
Synopsis:
A world divided.
A queendom without an heir.
An ancient enemy awakens.
The House of Berethnet has ruled Inys for a thousand years. Still unwed, Queen Sabran the Ninth must conceive a daughter to protect her realm from destruction—but assassins are getting closer to her door.
Ead Duryan is an outsider at court. Though she has risen to the position of lady-in-waiting, she is loyal to a hidden society of mages. Ead keeps a watchful eye on Sabran, secretly protecting her with forbidden magic.
Across the dark sea, Tané has trained all her life to be a dragonrider, but is forced to make a choice that could see her life unravel.
Meanwhile, the divided East and West refuse to parley, and forces of chaos are rising from their sleep.
🦸 🦸 🦸 Goodreads 🦸 🦸 🦸
Kree: Book Set in Different Universe
Gods, I am ecstatic when I saw that there was a book set in the alternative Philippines, my country. And yes, yes, I cannot help but think about this book!!! I am looking forward to diving into this one!
Title: Stealing Luna (Cincamarre # 2)
Author: Carla de Guzman
Synopsis:
Cora Justa Dumagat has had enough.
She is tired of watching the corrupt, fat cats of the council override the monarchy and risk the people's lives in exchange for a payday. Despite advice from her Queen, Cora has decided to take matters into her own hands and hit the Joaquins where it hurts—to steal their precious Juan Luna painting right from under their noses in Barcelona.
The job shouldn't be too difficult. If only Luis Ang, her ex-boyfriend, wasn't hired to be her bodyguard.
Luis knows that Cora is up to something, and will stop at nothing to make sure she's safe, even at the cost of Cora's plans.
As Luis and Cora become more and more deeply entangled into each other, the more dangerous the situation becomes. Will Cora have her revenge? Or will stealing Luna be the last thing she ever does?
🦸 🦸 🦸 Goodreads 🦸 🦸 🦸
Captain Marvel's Suit: Book with Red, Blue or, Yellow
I'll go pure Red, I had been eyeing this book since last year. And was blessed to score a copy from a sale. It's written by a Filipino Author and I swear y'all I ammm exciteddddddddddddd!!!!!
Title: All of This is True
Author: Lygia Day Penaflor
Synopsis:
Miri Tan loved the book Undertow like it was a living being. So when she and her friends went to a book signing to meet the author, Fatima Ro, they concocted a plan to get close to her, even if her friends won't admit it now. As for Jonah, well—Miri knows none of that was Fatima's fault.
Soleil Johnston wanted to be a writer herself one day. When she and her friends started hanging out with her favorite author, Fatima Ro, she couldn't believe their luck—especially when Jonah Nicholls started hanging out with them, too. Now, looking back, Soleil can't believe she let Fatima manipulate her and Jonah like that. She can't believe that she got used for a book.
Penny Panzarella was more than the materialistic party girl everyone at the Graham School thought she was. She desperately wanted Fatima Ro to see that, and she saw her chance when Fatima asked the girls to be transparent with her. If only she'd known what would happen when Fatima learned Jonah's secret. If only she'd known that the line between fiction and truth was more complicated than any of them imagined. . . .
🦸 🦸 🦸 Goodreads 🦸 🦸 🦸
Captain Marvel: New Release
Did somebody say Courtroom Drama? PRESEEENT!!!!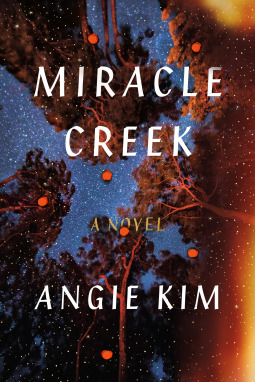 Title: Miracle Creek
Author: Angie Kim
Synopsis:
A literary courtroom drama about a Korean immigrant family and a young, single mother accused of murdering her eight-year-old autistic son
My husband asked me to lie. Not a big lie. He probably didn't even consider it a lie, and neither did I, at first . . .
In the small town of Miracle Creek, Virginia, Young and Pak Yoo run an experimental medical treatment device known as the Miracle Submarine—a pressurized oxygen chamber that patients enter for therapeutic "dives" with the hopes of curing issues like autism or infertility. But when the Miracle Submarine mysteriously explodes, killing two people, a dramatic murder trial upends the Yoos' small community.
Who or what caused the explosion? Was it the mother of one of the patients, who claimed to be sick that day but was smoking down by the creek? Or was it Young and Pak themselves, hoping to cash in on a big insurance payment and send their daughter to college? The ensuing trial uncovers unimaginable secrets from that night—trysts in the woods, mysterious notes, child-abuse charges—as well as tense rivalries and alliances among a group of people driven to extraordinary degrees of desperation and sacrifice.
Angie Kim's Miracle Creek is a thoroughly contemporary take on the courtroom drama, drawing on the author's own life as a Korean immigrant, former trial lawyer, and mother of a real-life "submarine" patient. An addictive debut novel for fans of Liane Moriarty and Celeste Ng, Miracle Creek is both a twisty page-turner and a deeply moving story about the way inconsequential lies and secrets can add up—with tragic consequences.
🦸 🦸 🦸 Goodreads 🦸 🦸 🦸
Carol Danvers: Badass Female Character:
TEAAAAAAA, DRAGONS, HALLLLOOOOOOOO
Title: The Heart Forger
Author: Rin Chupeco
Synopsis:
In The Bone Witch, Tea mastered resurrection―now she's after revenge…
No one knows death like Tea. A bone witch who can resurrect the dead, she has the power to take life…and return it. And she is done with her self-imposed exile. Her heart is set on vengeance, and she now possesses all she needs to command the mighty daeva. With the help of these terrifying beasts, she can finally enact revenge against the royals who wronged her―and took the life of her one true love.
But there are those who plot against her, those who would use Tea's dark power for their own nefarious ends. Because you can't kill someone who can never die…
War is brewing among the kingdoms, and when dark magic is at play, no one is safe.
🦸 🦸 🦸 Goodreads 🦸 🦸 🦸
Mar-Vell: Written by a Female Author of Color
If you have noticed there's already an ongoing theme with the authors I featured here, this sure is an added bonus! We agreed to group-read this book. And I am excited to include this book in the readathon as well!
Title The Wrath and The Dawn
Author: Renee Ahdieh
Synopsis:
One Life to One Dawn.
In a land ruled by a murderous boy-king, each dawn brings heartache to a new family. Khalid, the eighteen-year-old Caliph of Khorasan, is a monster. Each night he takes a new bride only to have a silk cord wrapped around her throat come morning. When sixteen-year-old Shahrzad's dearest friend falls victim to Khalid, Shahrzad vows vengeance and volunteers to be his next bride. Shahrzad is determined not only to stay alive, but to end the caliph's reign of terror once and for all.
Night after night, Shahrzad beguiles Khalid, weaving stories that enchant, ensuring her survival, though she knows each dawn could be her last. But something she never expected begins to happen: Khalid is nothing like what she'd imagined him to be. This monster is a boy with a tormented heart. Incredibly, Shahrzad finds herself falling in love. How is this possible? It's an unforgivable betrayal. Still, Shahrzad has come to understand all is not as it seems in this palace of marble and stone. She resolves to uncover whatever secrets lurk and, despite her love, be ready to take Khalid's life as retribution for the many lives he's stolen. Can their love survive this world of stories and secrets?
🦸 🦸 🦸 Goodreads 🦸 🦸 🦸
Choose 1 assignment from Black Panther.
Black Panther: A Book with Royalty

I. KNOW. I. WILL. LOVE. THIS. BOOK.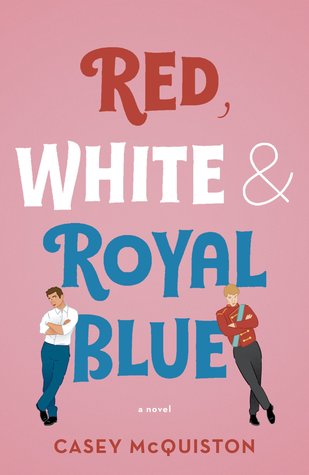 Title: Red, White, and Royal Blue
Author: Casey McQuinston
Synopsis:
A big-hearted romantic comedy in which First Son Alex falls in love with Prince Henry of Wales after an incident of international proportions forces them to pretend to be best friends…
First Son Alex Claremont-Diaz is the closest thing to a prince this side of the Atlantic. With his intrepid sister and the Veep's genius granddaughter, they're the White House Trio, a beautiful millennial marketing strategy for his mother, President Ellen Claremont. International socialite duties do have downsides—namely, when photos of a confrontation with his longtime nemesis Prince Henry at a royal wedding leak to the tabloids and threaten American/British relations.
The plan for damage control: staging a fake friendship between the First Son and the Prince. Alex is busy enough handling his mother's bloodthirsty opponents and his own political ambitions without an uptight royal slowing him down. But beneath Henry's Prince Charming veneer, there's a soft-hearted eccentric with a dry sense of humor and more than one ghost haunting him.
As President Claremont kicks off her reelection bid, Alex finds himself hurtling into a secret relationship with Henry that could derail the campaign and upend two nations. And Henry throws everything into question for Alex, an impulsive, charming guy who thought he knew everything: What is worth the sacrifice? How do you do all the good you can do? And, most importantly, how will history remember you
🦸 🦸 🦸 Goodreads 🦸 🦸 🦸
Another 1 from Guardians of the Galaxy.
Intergalactic Outlaws: Anthology
Another buddy read, I am waiting for my copy to arrive anytime soon! I am very excited for Roshani Chokshi's story here most! A story retelling of Maria Makiling. Growing up, I have always been fascinated by that story!
Title: A Thousand BEginnings and Endings
Edited by: Ellen Oh and Elsie Chapman
Synopsis:
Star-crossed lovers, meddling immortals, feigned identities, battles of wits, and dire warnings. These are the stuff of fairy tale, myth, and folklore that have drawn us in for centuries.
Fifteen bestselling and acclaimed authors reimagine the folklore and mythology of East and South Asia in short stories that are by turns enchanting, heartbreaking, romantic, and passionate.
Compiled by We Need Diverse Books's Ellen Oh and Elsie Chapman, the authors included in this exquisite collection are: Renee Ahdieh, Sona Charaipotra, Preeti Chhibber, Roshani Chokshi, Aliette de Bodard, Melissa de la Cruz, Julie Kagawa, Rahul Kanakia, Lori M. Lee, E. C. Myers, Cindy Pon, Aisha Saeed, Shveta Thakrar, and Alyssa Wong.
A mountain loses her heart. Two sisters transform into birds to escape captivity. A young man learns the true meaning of sacrifice. A young woman takes up her mother's mantle and leads the dead to their final resting place. From fantasy to science fiction to contemporary, from romance to tales of revenge, these stories will beguile readers from start to finish. For fans of Neil Gaiman's Unnatural Creatures and Ameriie's New York Times–bestselling Because You Love to Hate Me.
🦸 🦸 🦸 Goodreads 🦸 🦸 🦸

And 1 more from any Character.
Scarlet Witch: Wanda and Pietro – Book with Twins
One of my anticipated reads for the year 2019! I had been buddy reading this one with La Ronda of Flying Paperback and we I am doing badly at it. Hahaha, I promised to make it up soon though.
Title: Middlegame
Author: Seanan Aguirre
Synopsis:
Meet Roger. Skilled with words, languages come easily to him. He instinctively understands how the world works through the power of story.
Meet Dodger, his twin. Numbers are her world, her obsession, her everything. All she understands, she does so through the power of math.
Roger and Dodger aren't exactly human, though they don't realise it. They aren't exactly gods, either. Not entirely. Not yet.
Meet Reed, skilled in the alchemical arts like his progenitor before him. Reed created Dodger and her brother. He's not their father. Not quite. But he has a plan: to raise the twins to the highest power, to ascend with them and claim their authority as his own.
Godhood is attainable. Pray it isn't attained.
🦸 🦸 🦸 Goodreads 🦸 🦸 🦸
That's it! I may not do all, I may skip two from the prompts, depending, but Holy Week is happening. I may have 4 days free from work!!! Ambitious as I feel now. Why not? Right?
---
Are you planning on joining the Avengers Readathon too? Do you love joining readathons? Saw a book you've read from here? Let's chat!
Twitter • Instagram • Goodreads •
Did you love my content? Consider sending me a coffee.