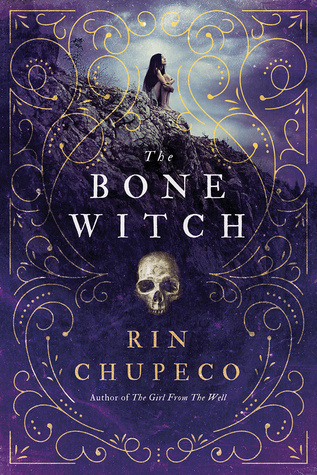 Title: the Bone Witch (The Bone Witch # 1)
Author: Rin Chupeco
Genre/Demographic: Fantasy, Paranormal, Witches, Young Adult
Publisher: Sourcebooks Fire
Release Date: March 7th, 2017
Format: Hardback (Own)
Synopsis:
In the captivating start to a new, darkly lyrical fantasy series for readers of Leigh Bardugo and Sabaa Tahir, Tea can raise the dead, but resurrection comes at a price…
Let me be clear: I never intended to raise my brother from his grave, though he may claim otherwise. If there's anything I've learned from him in the years since, it's that the dead hide truths as well as the living.
When Tea accidentally resurrects her brother from the dead, she learns she is different from the other witches in her family. Her gift for necromancy means that she's a bone witch, a title that makes her feared and ostracized by her community. But Tea finds solace and guidance with an older, wiser bone witch, who takes Tea and her brother to another land for training.
In her new home, Tea puts all her energy into becoming an asha-one who can wield elemental magic. But dark forces are approaching quickly, and in the face of danger, Tea will have to overcome her obstacles…and make a powerful choice.
Thoughts:
The Bone Witch was a book I had been meaning to read, since last year. But I have had been holding myself off reading because I am scared to be left hanging. Yes, I am a coward. Now that the last book came out this March, I said, it is time. Also for the fact that Lauren and Erica had been keenly pushing this book on my timeline. I had to. I have to.
And I did.
There were no regrets, diving into this book. I thought I wouldn't finish it. Often time I would go home from work beaten out. This book, rather Tea may not have only resurrected her brother but me. Hahaha! I had been reading this book during the commute, my easily dizzy braindead head couldn't give af. In the mornings from 6:00 to 8:00 commute, I devour it like cray. On my way home too, when there is still light…
The Bone Witch was phenomenal in terms of world-building. It did not disappoint. In an instant, hell yeah, it's pretty damn early in the morning I would get the eerie vibe of the world building, again I am holding up a hardback copy in the vehicle. That spoke a lot for this book already. The luscious world, you have to strap yourself in, because it is something you won't forget any time soon. It settles the readers into a world they would soon long for. To the most intricate detail of the order to the biggest detail you'll easily fall in love with, dragons! It all nestled in my mind delicately memorable.
The story itself may be a little underwhelming and slow, it works. As I have known now, it is the first book of the series and I applaud that it feeds the readers of the world we'll be known for the books to come. I am all for the slow burn of the story. The story unfolds in a lyrical way too. It tells the story two-way. One from past Tea and future Tea. I often am intrigued, pacing to read faster, seeking answers as the why did she say such statement from here comparing it with the other. The training session was intense too! Who knew?! One would not notice they were clenching their asses with that intensity, please, do not @ me. It may be slow but it has so so much to unload out to readers. I am burdened by it myself, as I write this all down. I suffer still with that ending.
Another side note: I am glad to find that I wasn't the only one who had a minor episode staring at a room corner contemplating such an ending. Hi Erica! I SEE U.
Characters and Twists? UHH YEAH, DROOLING all over! It'll rack your brains out. Should this one be trusted, is this one should be acting like they should be? The representation we're getting. HELL YEAH. It's all there.
Not only that but Rin Chupeco has scoped out such important topics, such as gender equality we're getting, she explores the norms of age and geographical culture. I rarely see these in books, erm whitewashed books in fantasies, but I definitely had my heart glowing with the mention of these in the later part of the book. (Yes, I told you the world-building is insane!)
Overall? It should not be missed. I suggest you go and get on with this one, and lets both stare at a wall contemplate how could we let Rin Chupeco ruin our lives.
Rating:
Amazon | Book Depository | IndieBound | Wordery
Add to Goodreads
Disclosure:  All views and opinions are my own and don't necessarily reflect the author, the author's work, the publisher, nor any other group of people, nor I received any monetary compensation for doing this review. Booklinks contain affiliate links in which the blogger receives a tiny commission on all successful purchases.
🧙 🧙 🧙 🧙 🧙 🧙 🧙
About the Author
For updates, events, and new releases sign up for her newsletter at http://www.rinchupeco.com/newsletter Unfortunately, I cannot accept friend requests at this time – Amazon detects these friends' lists on Goodreads and prevents the people on them from leaving book reviews!
Despite an unsettling resemblance to Japanese revenants, Rin always maintains her sense of hummus. Born and raised in Manila, Philippines, she keeps four pets: a dog, two birds, and a husband. Dances like the neighbors are watching.
She is represented by Rebecca Podos of the Helen Rees Agency. She is also fond of speaking in the third person, and may as well finish this short bio in this manner. While she does not always get to check her Goodreads page, she does answer questions posed to her here as promptly as she is able to. Find her at the following places instead:
Twitter | Pinterest | Instagram | Blog
🧙 🧙 🧙 🧙 🧙 🧙 🧙
---
Have you read The Bone Witch? Planning to? What do you think?
Twitter • Instagram • Goodreads •
Did you love my content? Consider sending me a coffee.